Easel Painting Set Oil, Acrylic and Watercolor Artist Paints, Brushes, Canvas & More
Easel Painting Set Oil, Acrylic and Watercolor Artist Paints, Brushes, Canvas & More
With over 60 pieces! a Fantastic Value, this Exclusive All Medium Set, Features.....
Hardwood Sketch Box Table Easel
12 Tubes of Artists Acrylic Color Paint
12 Tubes of Artists Oil Color Paint
12 Tubes of Artists Watercolor Paint
13 Brushes, 2 Canvases, 3 Canvas Panels, Color Mixing Wheel, Wood Palette and 2 Plastic Palette Knives, Large Mixing tray with 3 Inserts, Large Tote Bag

ALL New Items... Stocked, Assembled and Shipped...
from our warehouse & custom shop... direct to you.
 
INCLUDES ALL OF THE FOLLOWING...
 OUR NEW DELUXE (HARDWOOD) SKETCH BOX TABLE TOP EASEL
• VARNISHED FINISH      • CARRYING HANDLE      • ADJUSTABLE TILT
(HARDWOOD) SKETCHBOX TABLE TOP EASEL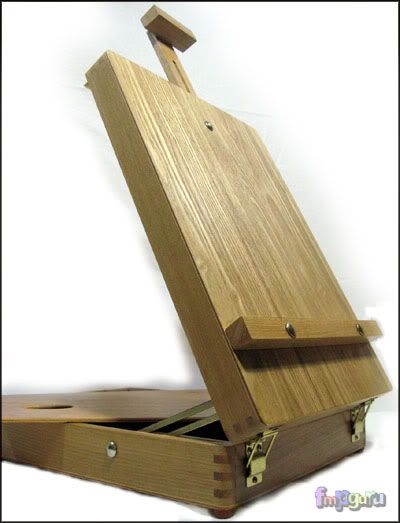 * Elm Wood Construction     * Hand Varnished Finish     * Carrying Handle      * Adjustable Tilt
* Dovetail Construction        * Gold Colored Plated Metal Hardware     * ROUNDED CORNERS
* Customizable Compartments for brushes, paints & supplies      * 14" x 10" x 3.0"
* Holds Canvas Up To 18" in Height!      * CARRIES LIKE A BRIEFCASE
---
 36 Paint Tubes of Acrylic, Oil and Watercolor
(12) - TUBES FINE OIL COLOR ARTISTS PAINT
This set includes one box of (12) twelve 12 ml (.4 oz) tubes of Oil paint:
(12) - TUBES FINE ACRYLIC COLOR ARTISTS PAINT
This set includes one box of (12) twelve 12 ml (.4 oz) tubes of Acrylic paint:
(12) - TUBES FINE WATER COLOR PAINT ARTISTS PAINT
This set includes one box of (12) twelve 12 ml (.4 oz) tubes of Watercolor paint:

Note: The Paints Used In This Set - Do NOT contain Lead and conform to ASTM- D-4236 Safety Standards
---
(2) - 100% Pure Cotton Duck Stretched Artist Canvases - For Acrylic or Oil Painting

(1) - 14"X18" ARTIST QUALITY GALLERY WRAP CANVAS
Ready To Hang, Staples on Back, Individually Wrapped
* Medium Texture * Acid Free Double Primed
* For Oil Or Acrylic Paint * Non Toxic
(1) - 12" X 16" ARTIST QUALITY GALLERY WRAP CANVAS
The threads in duck canvas are more tightly woven. The term duck comes from the Dutch word for cloth, "doek".
---
 (2) - HIGHEST QUALITY CANVAS PANELS
For Oil or Acrylic Painting

* (1) 5" X 7" * (1) 8" X 10"

* Extremely sturdy * Resists warping * These high quality panels are made with 5 oz 100% cotton canvas and double primed
* Acid-free adhesive. * Acid-free core. * Individually wrapped
---
 New Upgraded Brush Sets! (13) Bristle, & Synthetic Brushes In 2 Sets
Includes The Following:
---
LARGE 12 Well 10" x 14" Plastic Mixing Palette Plus 3 Inserts
White, stain resistant plastic palette, shaped like a palette, features 12 color wells and a large mixing area. Overall size 10" x 14".  3 Inserts included, that fit on top of the palette allowing the artist the ability to maintain a number of color palettes at one time.
---
 (1) - Pocket Color Wheel Mixing Guide by The Color Wheel Company
2 Sided Rotating Wheel Size: 5 1/8" 
This Artist's Color Wheel is an important learning tool for artists of all ages. This easy-to-use Pocket Color Wheel visually illustrates relationships between colors and demonstrates the results of color mixing. Features primary color mixtures, a gray scale, tints and tones, warm and cool colors, definitions of color terms, and illustrations of color harmonies.
---
Now Included with this listing:
'Get Started Painting' in Four Media, Oil, Acrylic, Watercolor and Pastel  (14 inches x 10 inches) 32 Pages US US $8.95
---
(1) - Large Canvas Art Bag
Full side and bottom gussets enhance the storage capacity of this versatile tote.
Made from 10 oz heavy-duty canvas.
Tote Measures 13x13x3".
(Tip - This bag can also be customized and painted on by you! Safe for Acrylic Paint, Markers, Stamps, Etc.) 
---
 Adding Value at every step of the way....



* All Items we sell are, 'Fresh', 'New Stock', New Items

* Most components in our sets come in individual retail packaging and/or retail boxes. Some items we import, manufacture, or brand, 'sku' and package directly.

* All easels are varnished, OR FACTORY FINISHED, SOME FRENCH EASELS WE VARNISH IN OUR SHOP

* Some Brand Names are omitted from our ads to avoid a conflict of interest or by prior arrangement with another manufacture

* Our easels ship safely in custom foam inserts, and /or retail boxes. All components are professionally packed, and double-boxed, with all new packing materials. Whether you are buying for yourself of someone special, we take extra efforts for each kit - that it 'present well' and is very much suitable for gift giving.

We do not include packing slips with our shipments unless by request, Our items ship in plain brown shipping cartons.