On Sale Now! At an unbelievable price!
COMPLETE OIL PAINTING SET WITH ELMWOOD SKETCHBOX TABLE EASEL
Includes All Of The Following...
---
(1) DELUXE ELMWOOD (HARDWOOD) SKETCHBOX TABLE TOP EASEL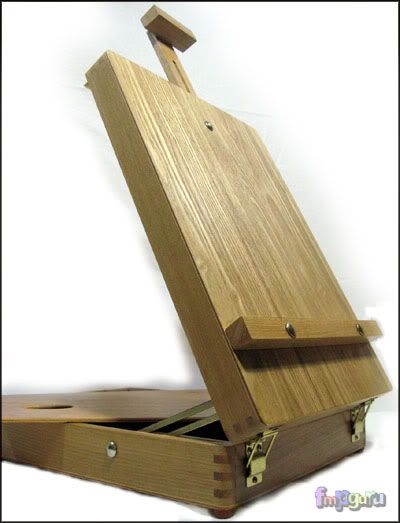 * Elm Wood Construction     * Hand Varnished Finish     * Carrying Handle      * Adjustable Tilt
* Dovetail Construction        * Gold Colored Plated Metal Hardware     * Rounded Corners
* Customizable Compartments for brushes, paints & supplies      * 14" x 10" x 3.0"
* Holds Canvas Up To 18" in Height!      * Carries Like A Briefcase
---
This Incredible Value, Super Starter Set, Also Includes.....
 12 - Tubes of Artists OIL Color Paint
 2 - Professional Gallery Wrap Stretched Canvases
3- Assorted Brush Sets
 1 - Wooden Artists Mixing Palette
 1 - 12 Well Artists Mixing Palette
ALL New Items... Stocked, Assembled and Shipped...directly from us...to you.
---
12 TUBES Fine ARTISTS OIL Color
This set includes box of (12) twelve  (.4 oz) tubes of OIL paint:
All Art Advantage paint sets offer good light fastness and covering power.
Oil sets manufactured using only quality pigments. High level of pigmentation. Full bodied colors.
Good, consistent covering power. Smooth buttery consistency of slow drying time. Can be manipulated freely to produce an infinite variety of textures.
---
100% PURE COTTON DUCK STRETCHED ARTISTS CANVAS - FOR ACRYLIC OR OIL PAINTING;
(1) – 12" x 16" HIGH QUALITY GALLERY WRAP STRETCHED CANVAS
Staples on Back , Ready To Hang      * Medium Texture     * Acid Free, Double Primed     * For Oil Or Acrylic Paint     * Non Toxic
100% Pure Cotton Duck Stretched Artist Canvases - For Acrylic or Oil Painting
---
100% PURE COTTON DUCK STRETCHED ARTISTS CANVAS - FOR ACRYLIC OR OIL PAINTING;
(1) – 8" x 10" HIGH QUALITY GALLERY WRAP STRETCHED CANVAS
Individually Wrapped
READY TO HANG, STAPLES ON BACK
* Uniformed Medium Texture     * Double Primed with Acid Free Acrylic Primer
* For Oil, Acrylic, and Water Based Media * 100% Cotton Canvas * Hand Cut Stretched & Wrapped
---
3 BRUSH SETS
Natural Bristle, Pony, and Synthetic (Handle Lengths from Short (approx 5 in) to Long approx 13 in)
For Oil, Acrylic, and Watercolor Painting
4 Long Handles Canvas Painting Natural Bristle Brushes (Top)
Sizes: # 12, #9, # 6, #4; Flats & Rounds; (Flats only pictured) All Natural Wood Handles, Seamless Nickel Ferrules
6 PC Long Handled Artists Quality Mixed Brush Set
---
5 Short Handled Mixed Brushes
Sizes: #2 Natural Pony, Round, #4 Natural Pony, Round, 1/4 inch Flat Natural Pony, 3/8 inch Flat White Synthetic, 1/2 inch Natural Bristle
1417
Classic artist palette design in an easy clean up plastic mixing tray. (Place in zip-lock bag and fridge -paints will stay fresh in between projects.)